Bus 24/7 – Online Booking & Reservation System
BUS 24/7 Reservation System is a software for Online ticket booking, Trip & fleet management, Counter functionality & agent management, System to evaluate performance of driver, conductor & employee, Vehicle management & reservation for all important data, Fitness tracking of vehicle, Adjustment of expense vs income, Taking quick decision, assurance of overall automated management in whole reservation system & transport business for the large,medium and small transportation trade organisation having a large amount of fleet.
This software is generally compatible with every operating system and obviously on Computer, Mobile, and Tablet as well. It's a set of integrated coding adjacent to a responsive website. Codes are being set under a well-organized framework. Generally, it's made of HTML, CSS, PHP, MySQL, JavaScript etc coding language. It's a well secured, dynamic and automated management system.
Now, It is obligatory having a bus reservation system for every transportation corporation & many web developing agencies are offering this tool but we have designed the best one contrasted to value we receive from you.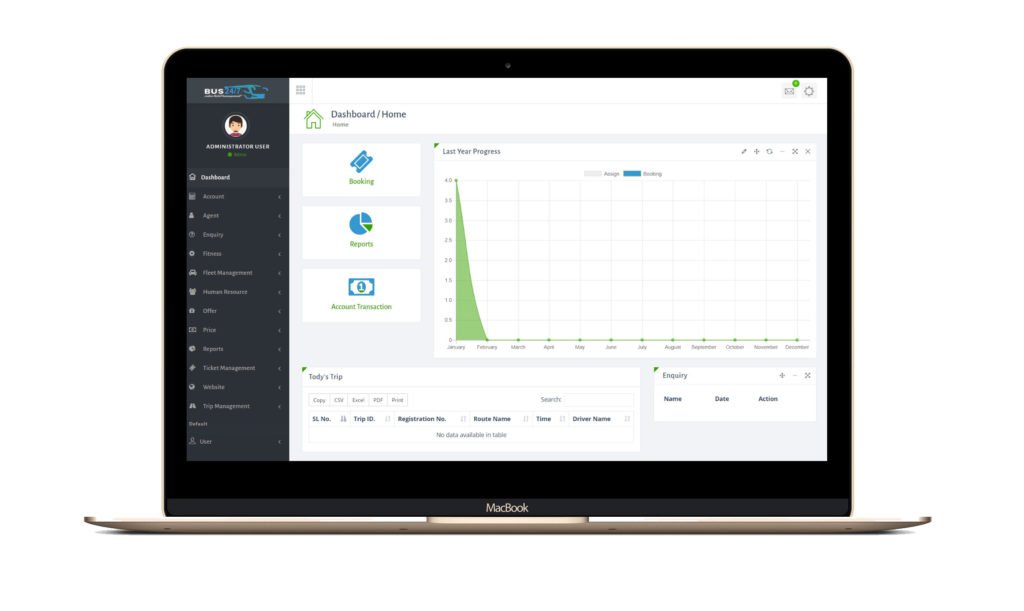 Featured Modules
Online Ticket booking
Integrated with website.Passengers can book rides directly from website
Fleet management
Record your vehicle details, schedule, time, availability, seat no & Scheduling
Trip management
Record your destination, Station, details easily. Ruote details & trip time- scheduling
Counter & agents
Record Counter & agent details including their name, address, contact details
HRM
Human Resource Management and Performance recording.
Payment, Price & offer
A smooth payment system, ticket price and offer strategy help to customers
Financial Management
To record income and Expense. Manage financial control to business
Website Integration
We have integrated a beautiful responsive website to ensure your online presence
Vehicle fitness
To record important data about fitness condition of vehicle, expiration of insurance validity, Route permit, Tax token etc
Why Transportation Traders Are Using A Bus Reservation System?
Today is not the age of technology but artificial intelligence. Businessmen are becoming more intelligent by using the blessing of technology. Being the strategically expert trader are frequently meeting the highest apex of success because of the welfare of automation technology. To cope with the time transportation business leader's are using automation tools to ensure dynamic management in every section of transport business. So using a bus reservation system for transportation business is a wise decision because it will make you lucky with so many blessings

Lets Get Started
For Quote & Demo
We focus strongly on function and usability and train you to manage application as a business asset. We go to great lengths to assure your that system fits your needs and get information you  seek, resulting in a pleasant and productive user experience.