Stock Manager Advance with POS
Stock Manager Advance is web application that help you to manage your inventory stock, sales and Point of Sale from anywhere, Office, Home, Warehouse or on the go. This item comes with inbuilt POS Module.
Stock Manager Advance has built-in Invoice and Inventory System. Invoice System has Tax and Discounts. These will be really helpful to apply taxes and discounts automatically and the ability to generate invoice from quotation.
Responsive Theme with 3 styles, Calendar to add events and daily/month sales and tax amounts. Advance and Improved reports for Overview, Stock Value per warehouse, custom sales and purchase reports.
Now you can manage multiple warehouses with Stock Manager Advance.
We have Re-designed the POS Module for better Performance, User Interface and Usability.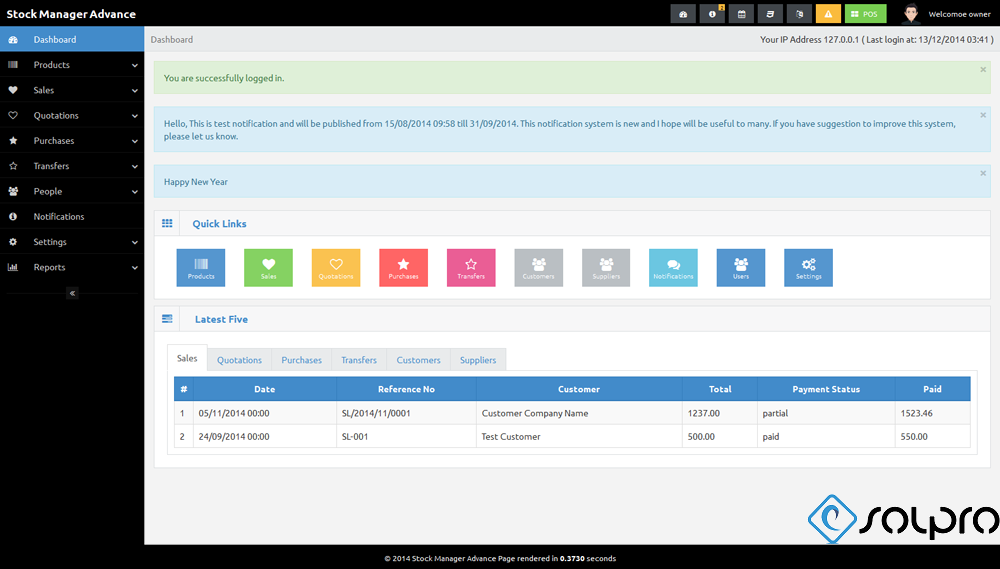 Featured Modules
Dashboard
With overview and best seller charts. Sales, Quotes, Purchases & Transfers
Products
Standard, Combo & Digital Products Management. Barcode. Labels. CSV Imports
Sales
Sales Management. Delivery order for Sales, gift cards and sales returns
Quotes
Quote Management. Add sales or purchases from quote. Pdf & email options
Purchases
Purchase Management Expense recording. Add purchase by CVS file
Transfer
Transfer Inventory. Stocks shifting and Where house management.
People
Add staff users & related actions, Billers, customers & Suppliers
Notification & Reports
Stock overview,Product Qty and Expiry Alerts.Sales & Profit Loss reports
Point of Sales - POS
Point of Sales system. Easy to use, Touch screen enabled. Cash Register Option
Lets Get Started
For Quote & Demo
We focus strongly on function and usability and train you to manage application as a business asset. We go to great lengths to assure your that system fits your needs and get information you  seek, resulting in a pleasant and productive user experience.